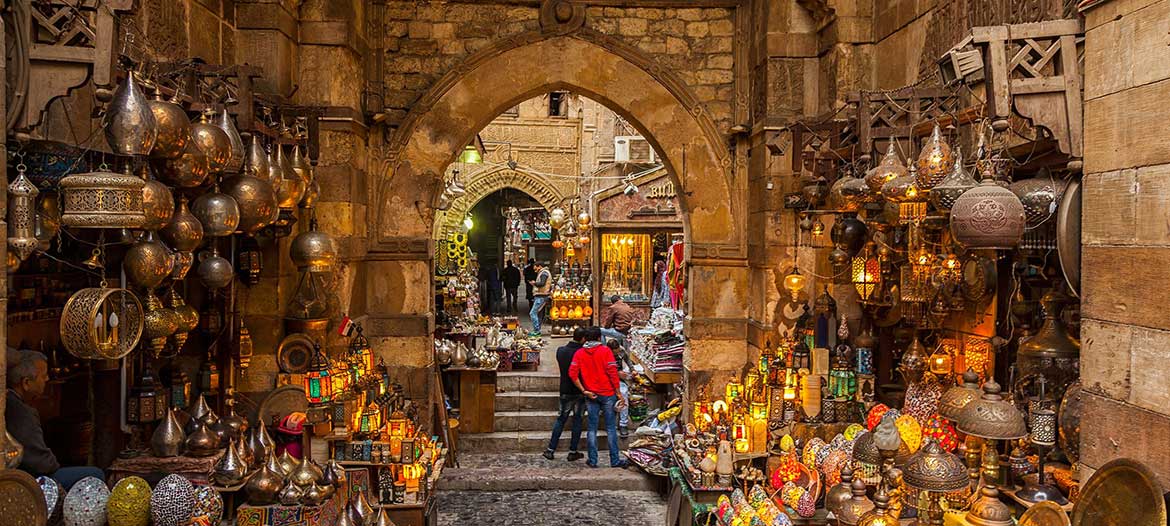 About the Khan-el-Khalili Bazaar
The Khan El Khalili bazaar is located in the Islamic district of Cairo. It is said to be the oldest and most well-known open-air market in the Middle East. The local stalls – many arranged around small courtyards - stocks everything from soap powder to semi precious stones, and more.
Most shops and stalls open from around 9am to well after sundown.
History of Khan-el-Khalil
Khan El Khalili bazaar was originally built to serve as a mausoleum for the Fatimid royal family and was at that time a part of the Great Eastern Fatimid Palace, which was built in 970 CE.
By the 14th century when the first Mamluk sultan ruled the country, the Black Death had ravaged Egypt – nonetheless, it continued to act as a major trade centre, and as a result, several commercial properties were constructed.
By 1389 the original Fatimid cemetery had been destroyed in order to make way for a large caravanserai.
The original caravanserai can still be seen at Khan El Khalili to this day although most shoppers have little interest in the colourful history of this charismatic bazaar.
Instead, most locals are only interested in securing the best possible deals, in a place where haggling is the order of the day.
Getting to the Khan-el-Khalili Bazaar from the Le Riad Hotel de Charme
The Khan-el-Khalili bazaar is situated approximately 600 metres from the hotel, which is approximately about an 8 minute walk. By car, you'll halve your time to get to the bazaar, depending on traffic congestion. For directions, please use the map below.