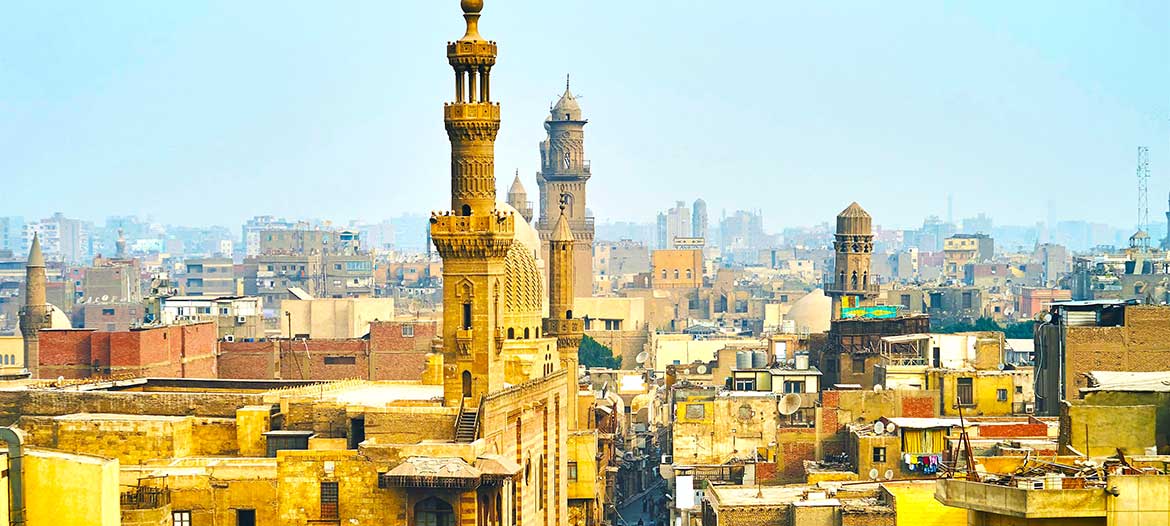 About the El Sultan Qalawun Complex
Located in the heart of Cairo, the El Sultan Qalawun Complex is an enormous architectural marvel that was built in the 1280s by Sultan Al-Nasir Muhammad Ibn Qalawun. It comprised a madrasa (school), hospital, and mausoleum. It features many beautiful examples of medieval Islamic art, and some of the architectural designs on display are thought to be amongst the finest to be found in Cairo.
The hospital at Qalawun Complex was one of the most impressive hospitals of the time and offered both treatment and shelter for the poor and ill. Food, clothing, and medicinal drugs were provided, and teaching and research took place within its halls.
Within the madrasa, many topics were taught, including the four main schools of Islamic jurisprudence, as well as medicine. The mausoleum is considered by many to be one of the most beautiful in the world, surpassed only by the Taj Mahal in India.
Today, visiting the restored ancient building will take visitors back to the time when it served as a centre of learning and worship in Cairo.
The history of the El Sultan Qalawun Complex
The El Sultan Qalawun Complex was constructed on the same site where a great palace of the Fatimid era once stood. It was reportedly built in just 13 months- a remarkable achievement, if true, considering its size. It is thought that the supervisor of the construction made use of Mongol prisoners of war in order to help achieve this feat.
The hospital was one of the reasons for which the Complex was built. When Qalawun was travelling, he became severely ill and was treated with medicines from a hospital in Damascus. He recovered, and on visiting the hospital, vowed to construct a similar one in Cairo.
The construction of the Complex is significant in that it is considered to mark the time when the "complex" was introduced as a new architectural design that included more than one element and served multiple functions.
Getting to the El Sultan Qalawun Complex from the Le Riad Hotel de Charme
The El Sultan Qalawun Complex is located just 300m to the south of the Hotel, on the same street (El Moez Street). It can be reached within a 5-minute walk. For directions, please use the map below.